Return To Blog
Construction Industry Outlook – Remodeling & Renovation
If there's one thing this pandemic has given us, it's more TIME.
Specifically, more time at home. Time to clean, time to organize, time to figure out what you don't need anymore, time to wonder why you've kept that box of random stuff in your basement that's been through 5 moves, time to stare at your walls and reconsider the color, time to get tired of your kitchen cabinets that are seriously outdated, time to peruse the internet for bathroom remodeling ideas, time to realize your home office could use an upgrade, and time to realize that maybe now is just the right time to finally finish that basement so you and your family members have a new area to use for your very own in-home social distancing.
2020 has brought a huge spike in demand for home improvement projects. For some, it's out of necessity for things like home offices and school/play areas for kids; for others, they are choosing to use what would have been their vacation fund on remodeling the kitchen. There is even an uptick in landscaping projects, deck building, and fence construction for the same reason.  People need a safe, controlled space to relax and be comfortable.
Americans are forced to use their houses differently now. What was an unfinished attic above the garage is now a home office. What was the home office is now the kids' "classroom" for online learning. And what used to be a kitchen designed in 1992 is now completely refurbished, boosting the family morale and (hopefully) making cooking more fun.
Annual expenditures for renovation and repair of the owner-occupied housing stock are expected to rise from about $332 billion today to $337 billion by the latter half of 2021. A softening of growth is projected in 2021, but recent strengthening of home prices and sales activity – including second home purchases – could provide further boosts to remodeling and repair next year.
In June, July, and August of this year, there were 330 million U.S. Google searches for home improvement work (up 50% from the same period last year)
3 out of 4 homeowners surveyed by Porch.com have completed a major project since the start of the pandemic – roughly the same percentage have one planned.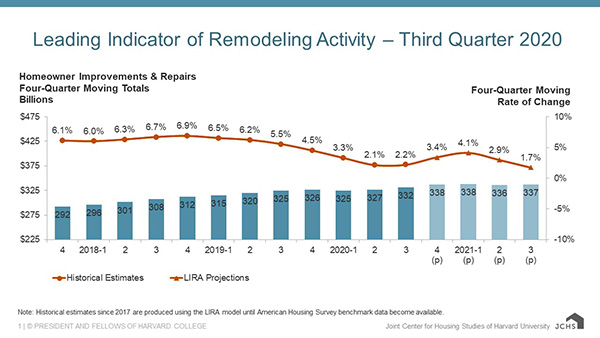 Check out a few of The Firm's current Remodeling/Renovation business opportunities:
Home Remodeling, Renovation & Reconstruction in North Carolina
Customized Home Office Furniture in the Twin Cities
Interior Design for High-End Homes – Owner Will Stay on for 2 Years
Home Remodeling, Finish Carpentry, and Custom Cabinetry
Sources:
Woodworking Network's Residential remodeling forecast to increase in 2021
NPR's Why Home Improvement Has Surged and How It's Changing America