Return To Blog
Advertising Industry Outlook – Adapting Strategies
We're in the middle of a pandemic. WHAT? I know.
And in the times of a pandemic, it is crucial to evaluate different industries as a business owner and especially a potential business buyer. We have buyers constantly looking for businesses in technology, e-commerce, manufacturing, and distribution. These industries have been seen as not only pandemic proof, but also full of growth. I recently wrote a blog about the industries booming in 2020: e-commerce, logistic services, online training and education, and online streaming services. But what about the other guys? I wouldn't immediately think that the pet industry would be growing, but it is. One question I have gotten is, "How is the advertising industry doing?"
So, I did some research.
Back when the pandemic started to hit the US, Advertising Services: United States by Freedonia Focus Reports projected advertising revenues to decline 18% in 2020 as companies deplete cash reserves, cut advertising spending, and delay marketing campaigns. According to the Interactive Advertising Bureau, almost a quarter (24%) of media buyers, planners and brands have paused spending until the end of Q2, while 46% indicated they would adjust their ad spend across the same time period.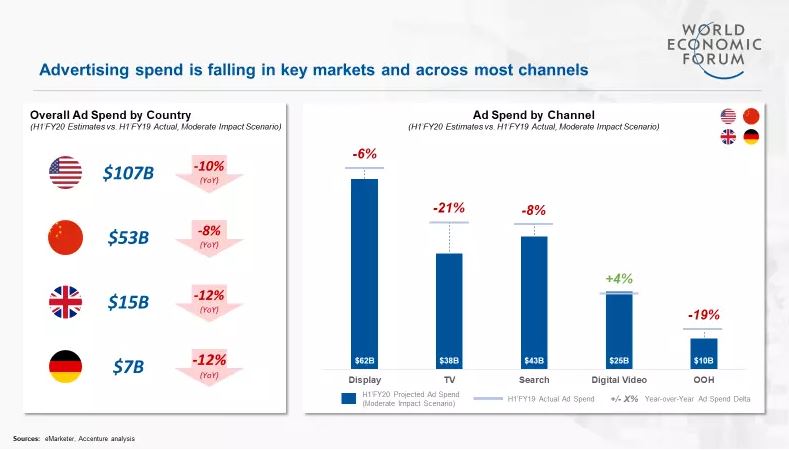 But is this the best option for advertising? Cutting spending by a large amount across the board?
Back during the 2008 recession, Procter and Gamble and other similar companies kept their advertising constant. According to Anja Lambrecht, a professor of marketing at the London Business School, "Firms try to stay in the consumer's mind, even if consumer spending falls. It pays to keep your brand in the consumer's eye."
With this, advertising campaigns have shifted their goal: reminding people they exist. In a survey, lifestyle advertisers reported that acquiring customers is now their priority, and other consumer categories are also adapting their marketing strategies. Many are focusing on changing the message. IAB data shows that 73% of advertisers have modified or developed new assets since the start of the pandemic. Of these, over half (53%) are increasing messaging that emphasizes the mission of the company. There has been continual research showing that time and time again in a crisis that turning off advertising altogether slows down the recovery.
The pandemic has also solidified the trend of digital advertising. Over the last decade, there has been a continual rise in the use of digital channels, including the internet, social media, and music and video streaming services. As digital platforms have gained strength, newspapers, magazines, and directories no longer attract the same level of ad spending.
COVID-19 has obviously shaped the advertising industry and has impacted it in the long-term. And even though businesses are prioritizing survival right now, for the future for advertising, those in the industry will have to come up with new ways of brand-building. The change in people's media and consumption habits will force the industry to rethink strategy. 
Advertising agencies are still one of the largest and fastest growing segments, with a projected growth rate of 2.9% through 2024. Expanding marketing channels such as podcast and influencer-based advertising will help the advertising industry continue to position itself strongly and continue to diversify their outlets and content.
To check out our advertising / marketing / media business opportunities, click here or give us a call at 402-998-5288.
To read more about the advertising industry, check out these sources:
World Economic Forum's This is how COVID-19 is affecting the advertising industry
Market Research's The U.S. Advertising Industry in the Era of COVID-19