Return To Blog
Learning From General Mills and Shrimp Tails
I'm sure by now you have heard about the Cinnamon Toast Crunch shrimp fiasco. If not, let me break it down for you. Basically, a guy finds two shrimp tails in his Cinnamon Toast Crunch box, along with some other items, like floss and weird black substances (let's hope for his sake it wasn't rat poop…). He tweets about it. It blows up. The internet goes crazy.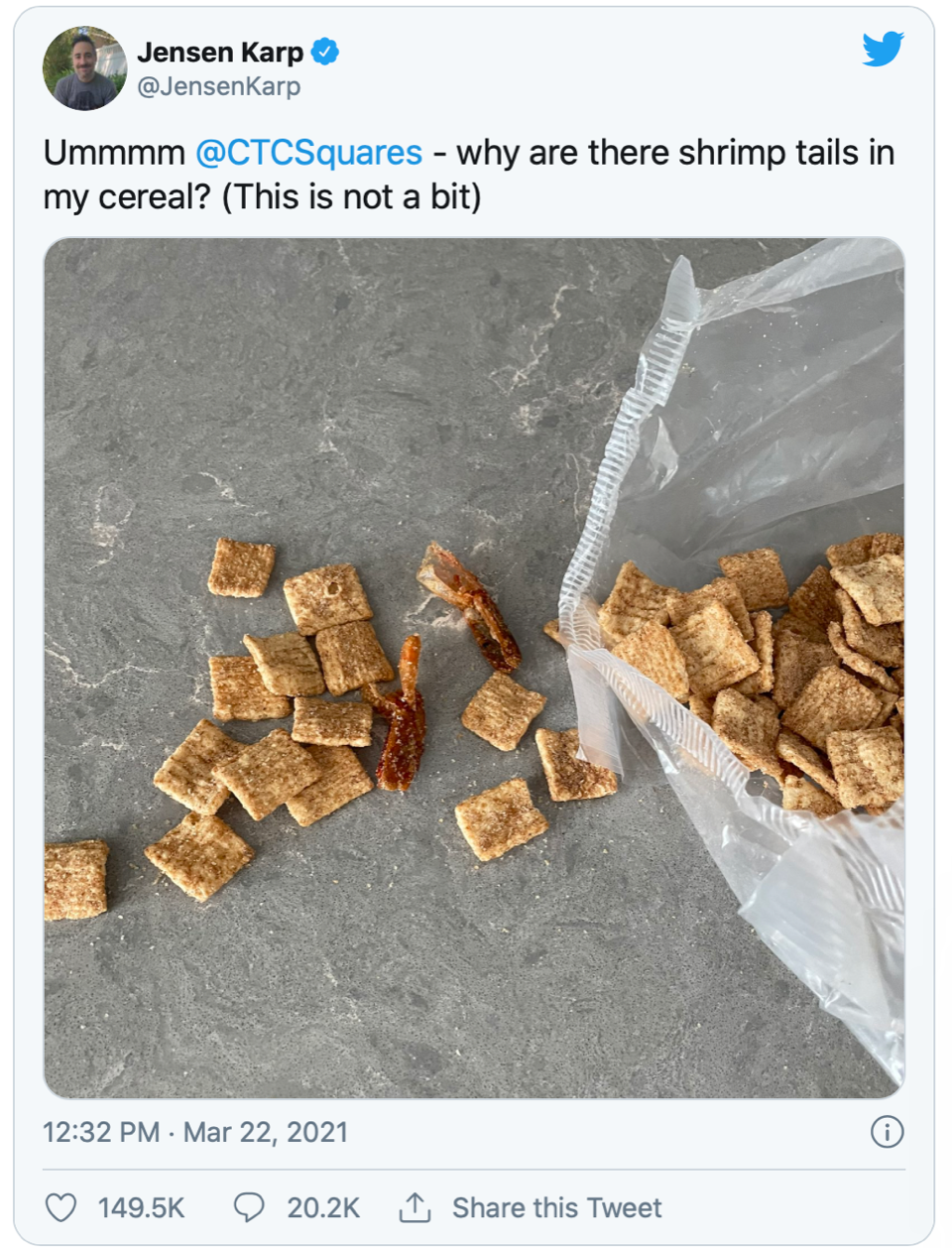 So how does General Mills respond? At first, not so well. They first state that after their team "closely examined the image, it appears to be an accumulation of the cinnamon sugar that sometimes can occur when ingredients aren't thoroughly blended." But if you look at the image above and below, anyone can clearly see that these are, in fact, shrimp tails. From promising General Mills vouchers to eventually requesting the tails to test them, they have seemed to go from denial to trying to put a band aid over the whole thing.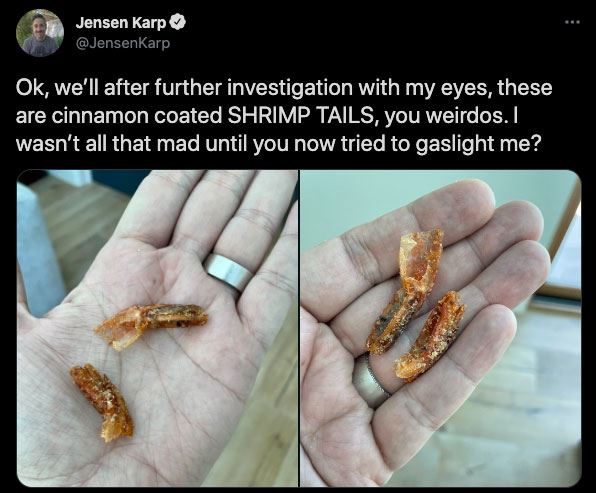 Eventually, General Mills's CEO Jeff Harmening said on CNBC, "Based on the information we have right now, it is highly unlikely this occurred at a General Mills facility. So right now, we're in the process of working with that consumer to try to figure out, kind of, what happened between when it left our docks and when he opened it." But that's about all we've heard from them so far.
So, all of this is to say, response to a media crisis like this is really important. And even more so, a proactive response is critical.
In times of a media crisis or bad press, I encourage you to do/think about the below.
Move fast but with care
It's important to act quickly but be sure to gather all the details and respond with humility. Not responding all together is never a good idea. You want to be present and address any customer issue. Even if it's about a shrimp tail.
Take the conversation off social media
If you can take the conversation privately, it will allow for a free and more detailed discussion about all of the information and next steps out of the eye of others.
Don't immediately dismiss and minimize
General Mills began by saying, "Those aren't shrimp tails." This obviously bit them in the butt. Because, they sure do look like shrimp tails. When a company immediately dismisses a claim without gaining all of the information, they will look like idiots if it turns out to be true. It also makes a company seem like they don't care. Instead, ask for more details and emphasize your desire to fix the situation.
Be ahead of the curve
It is important to be ahead of the narrative. If you can address harmful complaints early and be aware of a potential problem, a company will be able to respond quickly and effectively.
Be human
Tone is a very big deal. And it is important for your brand to come off as human when responding to customer complaints and crisis. Empathy will be your best friend. When someone finds a shrimp tail in their cereal, the least empathetic thing you could do is offer them a free box of cereal…
To read more, check out the sources below:
CNET's The Cinnamon Toast Crunch shrimp fiasco explained
Forbes's 9 Crisis Lessons From General Mills' Response To Allegation Of Shrimp Tails In Cereal Box
Muse's 6 Social-Media Lessons From Cinnamon Toast Crunch Shrimp