Return To Blog
Industries Booming During COVID-19
COVID-19 has impacted all of our lives in a variety of different ways.

For me, I was forced to finish my studies online, lost the job I was initially hired for, and have spent many holidays and celebratory occasions away from family. But it has also forced me to slow down, appreciate the technology we have to communicate with others from afar, and be thankful for love I constantly receive from my roommate and her cat.

I know that I am not alone in the many repercussions I have experienced of this worldwide pandemic. Many small businesses are struggling to keep their doors open. Many are left jobless. Many haven't seen their family members in months. And for those in mourning over the pain and loss, I extend my heart and my compassion.

But, there have been certain businesses and industries that have absolutely boomed during this time. So let's take a moment to celebrate that and maybe one of these industries you can begin to dip your toes into.
E-Commerce / Logistic Services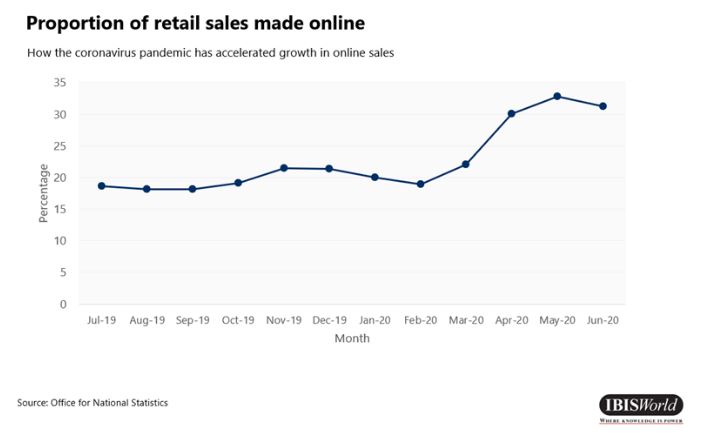 With the need to stay home, e-commerce emerged as a clear-cut winner with any form of delivery right behind it. According to the Office for National Statistics, online retail sales as a proportion of total retail sales reached a high of 32.8% in May 2020, compared with 18.8% in May 2019. To capitalize on the spike in online retail sales, outlets will be rolling out extensive digital marketing campaigns — both micro and macro — to customize offers that will appeal to individual consumers. Mobile content has become crucial to reach new customers and to maintain its healthy relationships. Supermarkets and household goods stores exhibited the strongest rise in online sales comparing the 2020 percentage of 128.8% to June 2019's 108.1%. Food delivery apps have taken advantage of millions of at-home people favoring ordering meals online instead of waiting out grocery store lines. Meanwhile, textile, clothing and footwear stores exhibited the weakest growth rate, but still recorded a 33.8% increase.

To meet rising demand and aided by low barriers to entry, companies have ramped up hiring initiatives and the industry is likely to record an increase in enterprise numbers. From July 2020, Amazon has created 15,000 new full- and part-time warehouse and delivery driver jobs across the UK. Meanwhile, courier firm Hermes expects parcel volumes to double to 3.5 million items a day by the festive season and is looking to hire 1,500 full-time staff across its delivery network and head office, as well as 9,000 freelance couriers, creating a total of 10,500 additional jobs. Data from Recruitment and Employment Confederation indicates job postings for heavy goods vehicle drivers increased 14%.
FedEx summed up distribution throughout the pandemic by saying "COVID-19 has changed the world and our way of life." In the post-pandemic world, logistics will become a necessity as an industry and will adapt to becoming more robust, quick, and efficient as the entire industry re-evaluates their supply chains.
Online Education and Training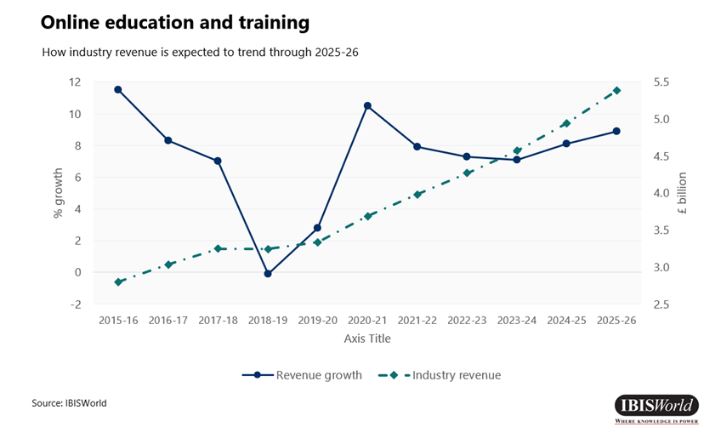 With many schools and businesses unable to be performed in person, the need for online education and training has increased. While remote learning is not expected to replace the in-person experience entirely, there will inevitably be a greater reliance on conducting classes and training online. Therefore COVID-19 has hastened the adoption and use of technology in an educational setting.
There has also been many benefits to the online learning and training model. US primary research firm Brandon Hill Group suggests education and learning can reduce training time by between 40% and 60%, while learning management systems developer Docebo suggests online education can help increase knowledge retention by 25%-60% due to visually stimulating and more interactive content with additional features, such as gamification and virtual quiz assessments.
Online Streaming Services
With physical distancing practices put into motion, people are avoiding going outside for entertainment. Along with splurging on bigtime television sets, online streaming service top guns like Netflix, Amazon, Hulu, Disney Plus, YouTube Premium, and Spotify became instant must-haves to satisfy our entertainment needs. Social media apps like Instagram, Twitter, Facebook, TikTok, and the emergence of HouseParty, became consumer's choices for entertainment and social interaction.
For the 14th annual edition of Deloitte's Digital Media Trends study, about 80% of U.S. consumers now subscribe to at least one paid streaming video service, up from 73% in the pre-COVID-19 survey. In the UK, according to the BARB Establishment Survey, in the first three months of 2020, 53% of households subscribed to at least one of Netflix, Amazon Prime Video or NOW TV. Netflix is the most popular service, with 46% of households having a subscription. Amazon Prime Video grew by 32% over the three-month period to reach 7.9 million household subscriptions.
Video gaming has also soared during COVID-19. Since the coronavirus crisis began, 48% of U.S. consumers have participated in some form of video gaming activity — with younger generations over indexing here (69% of millennials and 75% of Gen Z). Prior to COVID-19, 25% of consumers watched live-streamed and recorded video of others playing games (with around 50% of millennials and Gen Z). These numbers continue to hold during the pandemic, according to Deloitt.
There are many other industries that have continued to thrive during COVID-19: healthcare IT, medical textiles, and home workout equipment. So even though our economy continues to go through the ringer, we can look to these industries as a way of stabilization and growth.
As we mourn this crazy time, lean on those around you. Even if they are through a screen.
To read more, check out these sources:
ResearchFDI's Industries That Saw Growth During the COVID-19 Pandemic
IBISWorld's Industries That Have Performed Well During the COVID-19 Pandemic
Variety's Streaming-Video Subscriptions Have Risen During COVID-19